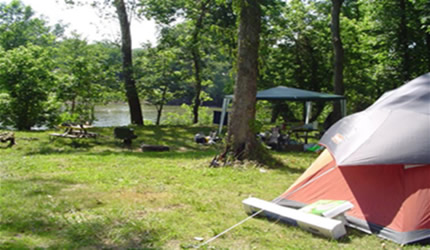 Tent Camping is a fun filled family or personal experience. This website is geared as an information site to provide you with locations to camp, places to fill your tank (stomach) and things to do while camping.
Featured tent camping sites
Contact us to get listed here: Contact Us
Types of Camping
There are three different types of camping opportunities in the USA. Recreational Camping for people who want all the comforts of home, primitive camping for those who enjoy closer contact with nature and wilderness camping for the more adventuresome. You can find wide ranges of camping facilities all across the US in each of these categories. :
Recreational camping is available in thousands of commercial campgrounds across the USA. Most of these facilities include clean toilets, hot showers, laundry facilities and convenience stores. They are typically equipped to support RVs (recreational vehicles) such as camping trailers and mobile homes with electric, water and sewer "hookups". Most of the campers bring all the comforts of home with them such as television, stereo and air-conditioning. You can pitch your tent at such a facility, but it will be expensive since you do not need all the "hookups". Very few tent campers stay at such campgrounds. KOA or Kampgrounds of America offers thousands of upscale recreational campgrounds across the USA. All of their facilities are usually very nice, very clean and well equipped. It cost $20 to $30 a night to stay at a well-equipped campground. Primitive camping facilities are located at the national parks, state parks, local parks and government recreational areas across the US. They normally have campsites with picnic tables, toilets and a supply of drinking water. A few of them may include showers, but they normally do not supply electric or water hookup. Some are located along hiking trails far from the nearest road. You do not see many trailers or mobile homes at primitive campgrounds. Most tent campers prefer these types of facilities. Primitive camping costs $5 to $10 per night. Some places charge nothing. Wilderness Camping Wilderness Camping Wilderness camping is permitted in many national parks, state parks and designated wilderness areas. Usually, no camping facilities are provided, but you are allowed to camp anywhere. In some areas, you may be required to camp only at designated campsites. You must take all of your water and food and shelter in your backpack or on a pack animal. Most of the parks require you to register or obtain a camping permit before entering the wilderness. Sometimes they charge a small fee. The individual areas may have some specific rules concerning campfires, environmental protection or the use of horses and pack animals. Check with the local park office when you apply for a permit.